As your residential heating and cooling experts, we believe that the temperature of your home should never feel like a burden, which is why we provide you with all of your residential HVAC unit solutions to meet your every need.
The average HVAC system can last between 15-25 years if taken care of, making it understandable to encounter repairs or replacement needs at some point as a homeowner. When it comes to residential heating and cooling systems, defining when your unit needs maintenance versus when it needs to be replaced can be tricky. Fortunately, we handle and provide solutions for all types of scenarios when it comes to your residential HVAC unit. To make things even easier, we've partnered with the top brands in the industry and can service all units designed by major brands.
we service all major brands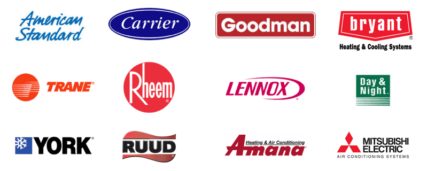 Replacing Your Current System
Knowing when to replace your current heating and air conditioning equipment doesn't always come with obvious signs. Sometimes problems with your HVAC unit appear as small nuisances but in reality are major issues that can impact the quality of operation and may ultimately result in your unit burning out. At Healthy Climate, not only can we design systems that are uniquely made for your residential property, but we offer free home replacement evaluations to ensure we're providing you with top-tier service at all times.
Signs you may be looking at a need to replace your current system, or for repairs to be made at the very least include but are not limited to:
Our experts don't simply conduct a quick evaluation of the unit itself, but we review the complete duct system to pinpoint and resolve every problem along with potential problems.
Heating & Cooling System Maintenance
Just like your vehicle, common appliances, or any mechanical system, all HVAC units require routine maintenance to ensure they can operate smoothly and last long term. Your heating and air are one of the most expensive add-ons to your home, meaning that you want it to be durable and taken care of so that you don't have to replace it every few years. Not only is replacing a unit pricey in comparison to replacing parts after a little wear and tear, but it can leave your home feeling less cozy if you allow the unit to blow a motor.
As a Healthy Climate priority customer, our maintenance agreement provides you with front of the list on demand services with 15% discounts as well as the following benefits during routine check-ups:
Additionally, the maintenance of your heating and cooling system is for your safety. Units that aren't working at full capacity or units that haven't been kept up can pose as hazards. That's why at Healthy Climate we prioritize our maintenance plans to provide you with routine check-ups twice a year with our basic planned maintenance agreement.
Healthy Climates on
New Construction Homes
Building your dream home is bucket list worthy, and when doing so you're likely going to want the best of everything, especially when it comes to your HVAC unit. As your new construction goes up, designing your internal heating and cooling system to meet all of your planning and mood board ideas for maximum indoor comfort has never been more achievable.
Your heating and cooling system is going to be one of the most expensive additions throughout your new home, which is why having a custom-designed duct system is beneficial for you. When partnering with us at Healthy Climate, our experts use the architecture and floor plan during construction to create a system that's unique to your home. This allows us to bring you high efficient systems that are properly installed and ready to work at full capacity from day one. When consulting with our experts, we'll discuss the various options that will control the heating and cooling throughout your home evenly. This means that you won't walk from one room to the next and experience drastic changes in temperature and when it's time to move in, all you'll have to worry about is unpacking and cutting the air down to keep you cozy. We guarantee that we'll create the perfect home comfort system for you, your family, and any guests.
Being eco-friendly has become more than recycling and reducing natural waste, it's also become an energy preserving challenge. With the average household in America using roughly 10,649 kilowatt-hours per month, designing systems that effectively save energy has been industry changing. Not only can our high efficient heating and cooling systems help you cut back on your carbon footprint, but with the high cost of gas and electricity we can design a system that saves you money.
In Georgia and South Carolina, it's common for attic temperatures to surpass 180 degrees temperatures throughout the summer, meaning that the cool air inside your home needs to be shielded from the heat. With floor and attic insulation inspections, we can ensure your home has the proper and necessary insulation to create that barrier and help prevent your heating and cooling system from having to work overtime. With our average climate, we recommend 10-12″ (R-40) insulation to best protect your home.
We specialize in blown cellulose:
As part of our recommended heating and cooling system solutions, we recommend installing a whole house humidifier to improve the health and comfort of your home. During winter seasons and short periods of drought, the air inside your home can become extremely dry. When this happens you may experience dryer skin, an itchy throat, and irritation of the eyes. This is caused by the lack of moisture in the air and can easily be solved by controlling the moisture in your home with our humidifiers. In addition to dry air causing slight discomfort for you, it can also be damaging to the flooring, furniture and health of your home. To best protect you and your home, our experts can install a whole house humidifier at any time you need.